Electrical Engineer - Second Life Batteries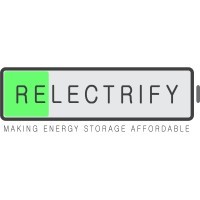 Relectrify
Other Engineering
Australia
Posted on Thursday, April 20, 2023
Description
About Relectrify:
Founded in 2015, Relectrify Holdings Pty Ltd is recognised as a leading innovator in energy storage. Relectrify is a high-growth venture that builds cutting-edge technology to unlock extra lifetime in batteries. By combining innovative electronics with intelligent algorithms and data analytics, our technology creates more affordable and longer-lasting energy storage systems for households, the power grid and beyond.

Relectrify was named Asia-Pacific's leading Cleantech Company in the 2022 Global Cleantech 100, and is backed by leading strategic and financial venture investors from Australia, the US, South Korea, Portugal and Japan, with Relectrify's most recent investment round led by Toyota Ventures.


About the Team:
Relectrify consists of a world-class team, that thrives on working together to solve seriously hard problems, motivated by the desire to make a positive global impact. We are passionate about rapidly deploying cutting-edge technology that supports the global transition to renewable energy. We also enjoy discussing future trends, good coffee, team board game evenings, and a healthy stream of positive humour.


About the Technology:
Relectrify's advanced battery management system (BMS) and inverter is comprised of three parts: hardware electronics controlling power flows inside battery packs; embedded software algorithms that inform how the hardware electronics operate; and data analytics to allow customers to monitor their batteries while also enabling Relectrify to continuously improve its algorithms.
Relectrify's BMS and inverter technology couple together to notably increase battery performance and lifetime, unlocking value and enhancing performance for our customers.
Relectrify actively forms strategic collaborations with innovative, sector-leading storage companies across the world to jointly develop and release uniquely positioned storage products.
As part of Relectrify's Hardware Team this full-time role is involved the development of Battery Management Systems (BMS) including second-life batteries as well as the design of power converters through the use of mathematical analysis, modelling and simulation (Matlab/Simulink, Mathcad, LTspice).
You will also be required to:
Provide specialised engineering support in power electronics for battery management,
Provide support for product requirements,
Design printed circuit boards using Altium Designer,
Maintain suitable documentation of conducted work.
Complete other engineering tasks and activities as required.
Requirements
Essential Experience:
Minimum 2 years relevant experience
Minimum Electrical / Electronics Engineering degree or similar
Extensive experience in battery management systems (BMS) for second life lithium-ion and sodium-nickel chloride batteries
Experience planning and managing innovative projects with power electronics > 10kW
Demonstrable experience completing projects on-time and to scope
Ability to collaborate across projects to provide effective contribution to product architecture.
Ensure to the best of your abilities that all products or components of products manufactured by Relectrify are fit for purpose and undergo appropriate safety testing.
Quality assurance experience via functional testing, Design validation, and Production verification.
About You:
You are a self-starter and able to take initiative to recommend and drive improvement projects and activities
You are organised, methodical, and are able to manage stakeholder expectations via your well-honed communication skills
You are a problem solver who can navigate challenges and identify improvement opportunities
You are a people person and are able to nurture strong relationships across the organisation with care and consideration for individuals' unique needs.
You love tech and are excited to understand and communicate our unique product offering and strong market position to candidates
You are passionate about sustainability and excited to contribute to the global transition to renewable energy
You hold full working rights in Australia and are willing to undergo reference, police and VEVO checks.
Benefits
Competitive salary: $90,497.74 - $99,547.51 ex. super
City fringe office with bottomless coffee, snacks, Spotify, and a growing population of office plants
Opportunity to earn company share options, offering you an ownership stake in Relectrify
Flexible working hours to support other aspects of your life, whether that be family commitments, sports, study, or anything else
Ability to define your own remuneration-leave optimum
A pay-you-back scheme on relevant online courses and other training
Travel stipend to encourage the use of public transport and reduce our team's commute footprint
Generous parental leave offering
Regular team events including Friday night drinks
A note for recruiters and recruitment agencies:
This role does not require agency input. Please do not forward resumes directly to Relectrify; we do not accept unsolicited resumes and are not responsible for any associated fees.