Company Finance Executive - VP or CFO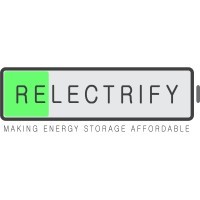 Relectrify
Accounting & Finance
Australia
Posted on Tuesday, April 4, 2023
Description
Please note: This executive role requires location in, or openness to relocate to, Melbourne, Australia (repeatedly rated the most liveable city in the world), as well as notable finance, executive, and growth company experience - see below.
About Relectrify:
Founded in 2015, Relectrify is recognised as a leading innovator in energy storage. Relectrify is a high-growth venture that builds cutting-edge technology to unlock extra lifetime in batteries. By combining innovative electronics with intelligent algorithms and data analytics, our technology creates more affordable and longer-lasting energy storage systems for households, the power grid and beyond.

Relectrify was name Asia-Pacific's leading Cleantech Company in the 2022 Global Cleantech 100, and is backed by leading strategic and financial venture investors from Australia, the US, South Korea, Portugal and Japan, with Relectrify's most recent investment round led by Toyota Ventures.
About the Team:
Relectrify consists of a world-class team, that thrives on working together to solve seriously hard problems, motivated by the desire to make a positive global impact. We are passionate about rapidly deploying cutting-edge technology that supports the global transition to renewable energy. We also enjoy discussing future trends, good coffee, team board game evenings, and a healthy stream of positive humour.
About the Technology:
Relectrify's advanced battery management system (BMS) and inverter is comprised of three parts: hardware electronics controlling power flows inside battery packs; embedded software algorithms that inform how the hardware electronics operate; and data analytics to allow customers to monitor their batteries while also enabling Relectrify to continuously improve its algorithms.
Relectrify's BMS and inverter technology couple together to notably increase battery performance and lifetime, unlocking value and enhancing performance for our customers.
Relectrify actively forms strategic collaborations with innovative, sector-leading storage companies across the world to jointly develop and release uniquely positioned storage products.
Requirements
Role Overview:
An exciting opportunity exists to join Relectrify's leadership team as the Company Finance Executive - VP or CFO. Working with the CEO, executive team, board and investors, as well as the broader team, you will be responsible for strategising, planning, implementing and managing all financial and operations activities of the company. A key part of the role will be planning and executing investment processes with leading global investors, and co-leading the investor relations function for existing shareholders. Optional but preferred inclusions in the role are to manage the company's legal and board secretary function, and support its intellectual property function, with extension opportunities including to support Relectrify's people operations function. Initially the role will have c. 3 direct reports, expected to grow to 5-7 direct and indirect reports over the coming 12-24 months.
In short: Your sweet spot will be finance and investments, but the role will offer significant opportunities to further contribute to broader legal and operations aspects involved in hands-on scaling a technology growth company.
Successful applicants must undertake pre-employment screening checks via our third-party providers.
About You:
You bring energy and enthusiasm to your work and are passionate about supporting the growth and continuous improvement of Relectrify and the people who make up our team
You are values-driven and passionate about sustainability, and excited to contribute to the global transition to renewable energy
You have an interest in advanced software and hardware technologies, pushing the boundaries of what is possible today
You combine extraordinary attention to detail with an ability to keep track of and deliver against big-picture requirements
You have a fundamental willingness to do whatever it takes to make a company run smoothly, whether glamorous or not to ensure the job gets done
You are a people-focused manager with demonstrable experience nurturing high-performing teams
You are Melbourne-based or have the willingness to relocate to the Economist's Most Liveable City in the World, enabling your in-office presence 4+ days a week
Must haves:
10+ years experience in finance and operations functions
3+ years experience leading (C-/VP-/Director or equivalent level) finance functions
3+ yrs experience in companies sized between 20-150 staff
3+ yrs experience having 3 or more team members as direct reports
Strong insights and interest in venture investment processes
Nice to haves (from most valuable):
Experience (co-)leading multi-$M venture investment processes
An ability to review and modify complex legal documents
Prior exposure to or experience with intellectual property and patents
Experience leading a company sec function inc. preparation of board papers
Prior exposure to mergers and acquisitions (M&A) or listing / IPO processes
Deep impact focus, and ideally a strong passion for making a global sustainability impact
An interest in advanced software and hardware technologies, pushing the boundaries of what is possible today
Benefits
City fringe office with bottomless coffee, snacks, Spotify, and a growing population of office plants
Opportunity to earn company share options, offering you an ownership stake in Relectrify
Flexible working hours to support other aspects of your life, whether that be family commitments, sports, study, or anything else
Ability to define your own remuneration-leave optimum
A pay-you-back scheme on relevant online courses and other training
Travel stipend to encourage the use of public transport and reduce our team's commute footprint
Generous parental leave offering
Regular team events including Friday night drinks
A note for external agencies:
This role does not require agency input. Please do not forward resumes directly to Relectrify; we do not accept unsolicited resumes and are not responsible for any associated fees.